Did the cost of fully installed home solar power systems in Australia go up or drop in October 2022? Find out in SolarQuotes' latest solar price report.
Based on pricing information included in 366 solar installer review submissions as at November 26 covering system purchases made in October, two states edged in under a dollar a watt for fully installed systems last month – Victoria and Western Australia. The following figures take into account full installation and any solar rebates and subsidies.
State
Cost per watt
(October 2021)
Cost per watt
(September 2022)
Cost per watt
(October 2022)
QLD
$0.88
$1.02
$1.11
NSW
$1.02
$1.14
$1.12
ACT
$1.09
$1.32
$1.47
VIC
$0.89
$1.00
$0.98
TAS
$1.09
N.A
N.A
SA
$0.89
$0.98
$1.06
WA
$0.78
$1.01
$0.93
NT
N.A
N.A
N.A
AU
$0.92
$1.06
$1.07
Of note in October 2022 is after prices in WA had been heading north for four consecutive months, last month saw a significant drop of 8c a watt.
The numbers in the table above may change as new reviews are received. You can see the latest figures and more in-depth detail using SolarQuotes' Australian Solar Price Index tool. Note the averages cover everything from poor to top quality systems, and the outlier cheap-as-chips (best avoided) to dear-as-poison players; some of whom also sell crap systems. Pricing is also affected by geographical location, as this can impact the level of solar rebate available.
For general pricing ranges of good quality systems in Australia, see SQ's solar panel costs page.
Cost Per Watt – National Averages
The following graph indicates average fully installed cost-per-watt across all system sizes nationally since November 2020. Pricing still remains well up compared to a year ago, when the average was just 92c a watt.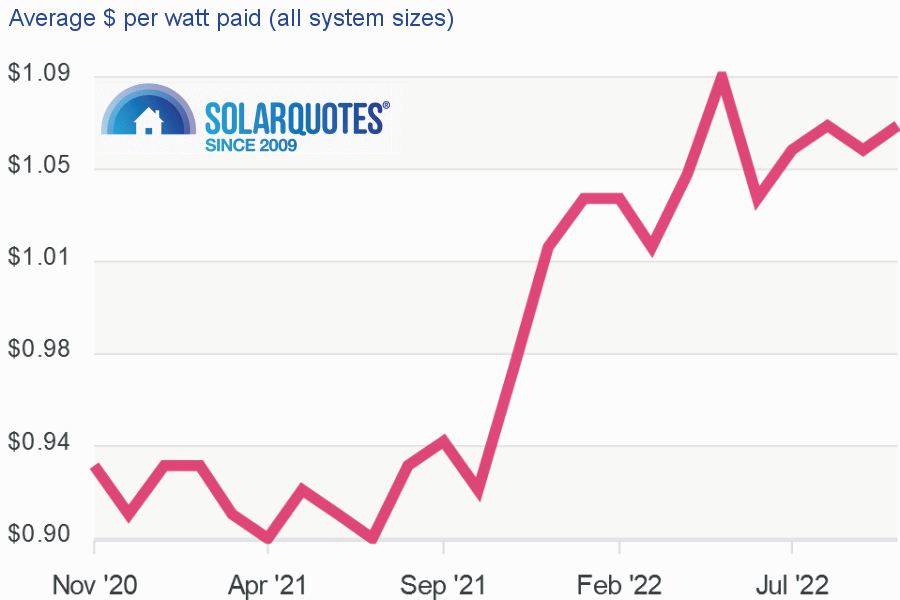 6.6kW And 10kW Solar System Prices – October 2022
Again based on SQ's Australian Solar Price Index reporting, average pricing for 6.6kW solar systems dropped a whisker from $6,299 in September to $6,282 fully installed in October. This average includes all quality/pricing types, locations and after subsides.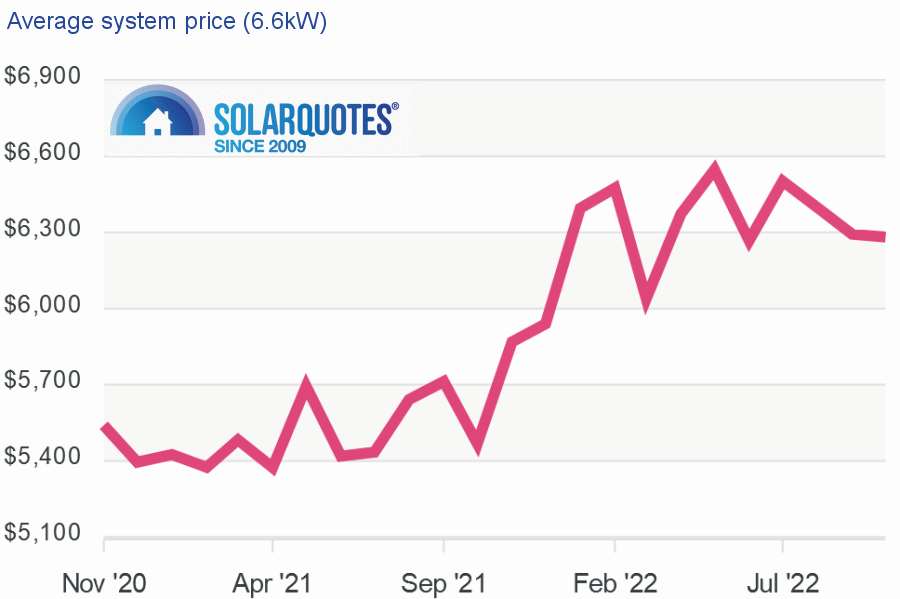 In October last year, the average price for 6.6kW systems was just $5,468. The highest since November 2020 was in May this year – $6,547.
For 10 kW solar systems, October's average pricing nationally was $10,519 – up nearly $500 on September's $10,050. The highest average cost for fully installed 10kW systems since November 2020 occurred in April 2022 – $10,958.
What's Ahead For Solar Pricing In Australia?
There are mixed signals. The cost of solar-grade silicon (a crucial material used in solar panels) has reduced a little to a high in August/September not seen since late 2011. A couple of research firms are tipping compared to more significant reductions in the near future, and there's a lot more polysilicon production capacity in the pipeline.
Shipping costs are continuing to drop – down from a crazy-high USD $10,361 per container in September last year to ~$3,100 in October this year (Source: Statista Global Container Freight Index).
But Murphy's Law applies as much to the solar power industry as anything else, and he's certainly been busy these past few years. On a related note, COVID lockdowns are still happening in China. Depending on where/when/how they occur, these can affect solar manufacturing.
Something that *will* maintain some elevated pricing pressure is the scheduled solar rebate reduction in January. That would already be factoring into quotes being issued now, and likely those for the last few weeks. This is due to how Australia's solar rebel works. In brief, it's partly based on installation date rather than system purchase date.
With a recent rush on systems given the looming rebate reduction and news of more electricity price rises on the horizon, many solar installers would be booked out for what remains of the year and into early next year.
Given the silicon crystal ball is still muddy as to what the future holds, the best time to arrange to go solar (as always) is right now. And the reason why is straightforward – the longer a decision to install panels is put off, the longer a household or business will be paying electricity bills much higher than they would otherwise be. With the cost of electricity what it is and where it's likely to go over the next year or so, that can add up to a significant chunk of change.
To find out how much you could be saving on your power bills with rooftop panels; try SQ's solar (and battery) calculator – it's really easy to use.
Related