I recently took a BYD Atto 3 for a test drive – the first EV I've ever driven. Here's what happened on this momentous occasion.

But before I launch into this BYD Atto review, a little background on my motoring history and reasoning for a shift to an EV. Fast forward if you want to skip this.
My first car was a Holden JD Camira.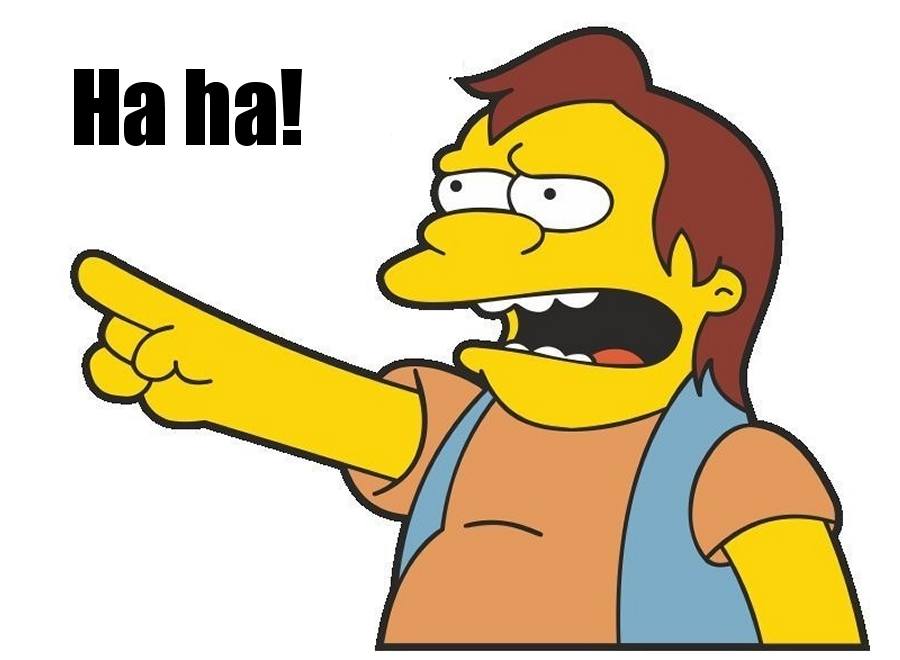 That was followed by a procession of mainly cheap second hand vehicles – sedans and vans (I miss vans!). The next stop for these vehicles was always going to be the wreckers given their ages and condition when I bought them. Then I bought a brand-spanking new Great Wall V240 4WD ute kitted out with a Flexiglass canopy, chunky bullbar, custom bash plates and a few other necessary trinkets.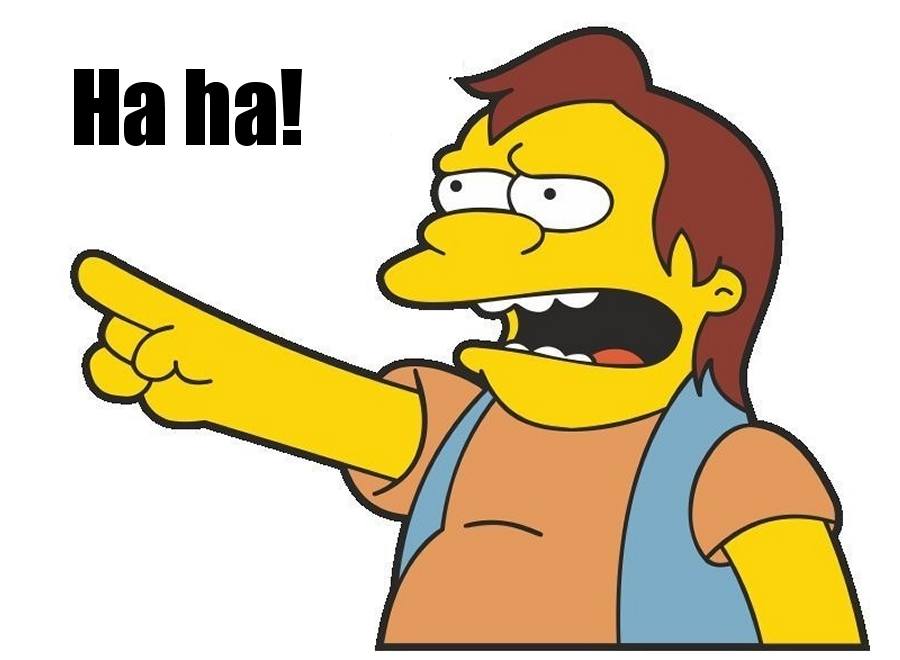 No, it was actually a good vehicle for my purposes. I needed a 4WD at the time as I was spending much of it on my own out in the bush. As soon as I wasn't any more, I got rid of it. The ute never let me down and I figured out that if it lasted at least 5 years I could put a match to it and still wind up ahead of those who had shelled out for what were much pricier 4WDs (and it lasted longer than that).
Next in line was my current vehicle, a new Mitsubishi ASX purchased in 2018. I'm told it's a girls car. I'm ok with that and it has been a good, comfortable, economical and problem-free vehicle.
So, when reading this BYD Atto 3 test drive review, bear in mind.
I'm not a car nut or particularly knowledgeable about them. A car is just a tool for getting from A to B, safely, reliably, economically and reasonably comfortably. If it looks good doing it, great.
I don't consider a car an extension of my p…ersonality.
As mentioned, I had never driven an EV previously. I did have an electric quad for getting around my bush block years ago, but that doesn't count.
I avoid driving when I can while in the mega-city of Adelaide as many drivers here are utterly insane. There's a lot of ice on Adelaide's roads – and I'm not talking the frozen water variety.
While the Atto 3 test drive was comparatively short, the research leading up to this point and since has been pretty long.
My Reasons For Considering An Electric Car
The up-front cost of an electric car is frightening. I never thought I'd consider purchasing a vehicle costing much more than what my ASX did.
But it turns out at the moment I can sell the 4-year-old very-low-k's and very-well-cared-for vehicle for not much less than what I paid for it. There's also an EV subsidy in South Australia, which I'm hoping will be around long enough for me to benefit from.
Assuming stars align, switchover to the Atto 3 will work out to cost me around the same as the changeover to the ASX did.
The sticker shock of an electric car (mostly) out of the way, there will be quite a bit to look forward to – such as avoiding the petrol pump and charging an electric vehicle using the 10kW solar system above my head and a dedicated EV charger (undecided on which at this point).
Our solar panels are currently sending a lot of output to the grid for just 8c a kilowatt hour feed-in tariff, and I also have a 5kW export limit. Self-consumption is the name of the game when going solar, and an EV will certainly help take care of that. Working from a home office means plenty of time for day-time charging.
Then there's the comparative quietness and other little bonuses such as free rego for the first few years; and my lifestyle pumping less emissions into our already carbon-dioxide-soaked atmosphere.
There should also be some savings on servicing; although with the Atto 3 it won't be as much as some other electric vehicles. BYD has a pretty strict servicing schedule, whereas it appears Elon Musk has sort of said "eh, whatever – do this, don't do it" for Tesla vehicles and the warranty remains in place.
I had heard some scary things about insurance costs, but on checking with my insurer it only works out to be around $90 more a year for a comprehensive policy.
Another reason for heading down the EV path is my partner's car – a Kia Cerato – is getting on. She covers far more kilometres than me; but we wouldn't get as much for her car and it has some useful years left in it. The idea is we'll share the Atto for a couple of years, then we'll ditch the Cerato for another EV. Whatever that will be, it must feature V2H instead of V2L, which is what the Atto offers. But more on that in a bit.
Settling On The BYD Atto 3 (For Now)
We still don't have a great range of electric vehicles to choose from in Australia thanks in part to a lack of fuel efficiency standards, which will hopefully be rectified soon.
As the Atto was at the extreme upper end of what I was prepared to pay, that left even less choice. The only other candidate in terms of what I was after was the MG ZS EV.
I also looked at options such as The Good Car Company, which offers second-hand electric vehicles brought in from overseas; some of which have reasonably low kilometres. I still haven't totally discounted that possibility.
Atto 3 Specs 'N Such
The Atto 3 is "COOL AND FUN, SMOOTH AND SAFE" – thus states the brochure.
Its dimensions are 4.45m (L), 1.875m (W) and 1.615m (H). It has a laden ground clearance of 150mm and weighs in at 1,680kg for the standard and 1,750kg for the extended range.
It's a front-wheel drive with single electric motor generating 150kW of power and 310Nm of torque. BYD claims a 0 – 100kmh acceleration time of 7.3 seconds.
The Atto 3's battery – which boasts BYD's Blade Battery tech – has 49.92 kWh capacity for the standard model and 60.48 kWh for the extended. The battery chemistry is lithium iron phosphate; widely regarded as the most stable and safe common lithium-ion chemistry.
BYD claims a WLTP combined driving range of 345 km for the standard and 420 km for the extended. I expect that would be optimistic under real-world conditions.
Other features of the Atto, to name a few, well, a lot – but not all:
A bunch of airbags
Tyre Pressure Monitoring System (TPMS)
Anti-Lock Braking System (ABS)
Electric Parking Brake System (EPB)
Electronic Stability Program (ESP)
Traction Control System (TCS)
Electronic Brake Force Distribution (EBD)
Hill Descent Control (HDC)
360° view monitor  (which is very cool)
2 radars at the front and four at the rear
Stop & Go Full Speed Adaptive Cruise Control (ACC-S&G)
Automatic Emergency Braking System (AEB)
Front Collision Warning (FCW)
Rear Collision Warning (RCW)
Blind Spot Monitoring (BSD)
Lane Departure Warning (LDW)
Lane Keeping Assist (LKA)
Rear Cross Traffic Alert (RCTA)
Rear Cross Traffic Brake (RCTB)
Panoramic sunroof – electric slide cloth screen inside the car that retracts when you want to use it, which for me would be never.
Electric unlock tailgate, one touch open and close
Electrically heated, adjustable and retractable exterior mirrors
ACC and multi-function display
12.7cm digital instrument panel
60/40 split fold rear seats
6-way power adjustment for driver seat and 4-way for front passenger
Driver and front passenger heated seats
FM & DAB radio (what's a radio?)
Bluetooth – of course
35cm intelligent rotating touch screen
Dirac HD sound, 8 speakers – yawn.
Various USB – C and USB – A ports.
LED headlights with follow me home.
High Beam Assist (HMA) – a must have for me.
Multi-color gradient ambient lighting.
LED front and rear side reading lights
Wireless phone charger
12V socket
Keyless entry & Keyless start
Portable card key
4-door window one touch up-down with anti-pinch
Automatic single-zone air conditioner
PM2.5 air filter
Domestic 3-pin plug AC charger
DC charging port – CCS 2 (Standard Range 70kW/Extended Range 80KW)
VTOL (V2L) – enables you to power appliances at home or wherever using the vehicle's battery
Regenerative braking
Camera front and back, which records each journey.
…and the list goes on. There's a dizzying array of features and a bunch of acronyms I needed to look up. Some of these whizz-bang features are why the Atto 3 has a 5-star ANCAP safety score.
V2L And The Apocalypse
While some of the non-safety bling and bits are a bit gimmicky, a feature I find attractive is V2L, which stands for Vehicle-To-Load. The car is capable of powering appliances via a special cable with a plug on one end that connects to the Atto's charging port, and a powerboard at the other end you can plug appliances into.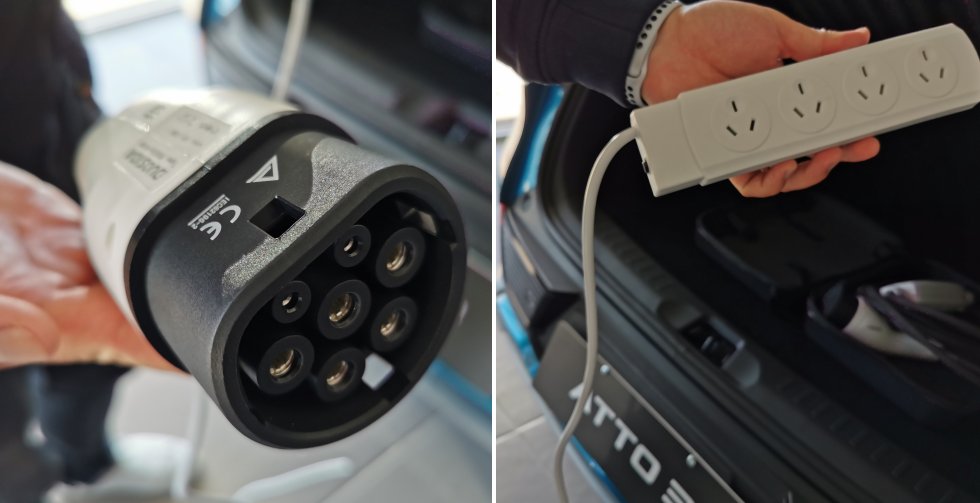 This setup offers up to 3.3kW peak output and continuous output of 2.2kW.
It's not the most elegant of home backup energy storage solutions. But we'd be able to power some critical appliances (e.g. fridge, lighting, notebook) in an extended blackout for days.
Assuming we started out with a full battery, there would still be enough juice in the Atto to (maybe) escape the suburbs if said extended blackout is the result of four horsemen of the apocalypse rocking up to Adelaide. Actually, things were looking a bit that way on the weekend.
I heard BYD is also coming out with some Vehicle-To-Home (V2H) capable vehicles soon – and that's where things will get really interesting. In our situation, it would do away with the need/desire for a home battery.
Learn about the differences between, limitations of and applications for V2L, V2G and V2H.
At The BYD Experience Centre
The BYD dealership car yard Experience Centre is located at 17 Main North Road, Medindie. It looked like it was still yet to get some finishing touches when we visited in mid-October.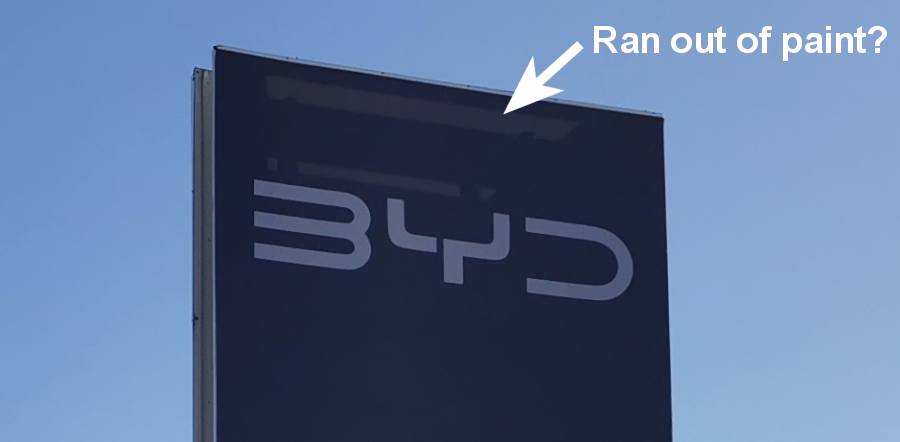 We were a bit confused on arrival as the first car we saw was a Tesla. Elon may have been sussing out the competition.
I'm used to going into showrooms where there may be one or two other prospective buyers in there; but on this day there were at least 8 when we arrived. And they all seemed pretty excited. It had a vibe of: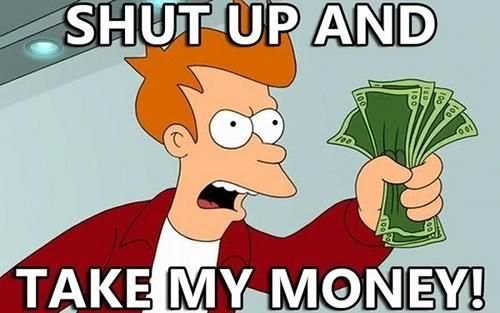 When the showroom Experience Centre emptied out late in our visit, I was able to grab a decent pic of an Atto without anyone crawling all over it.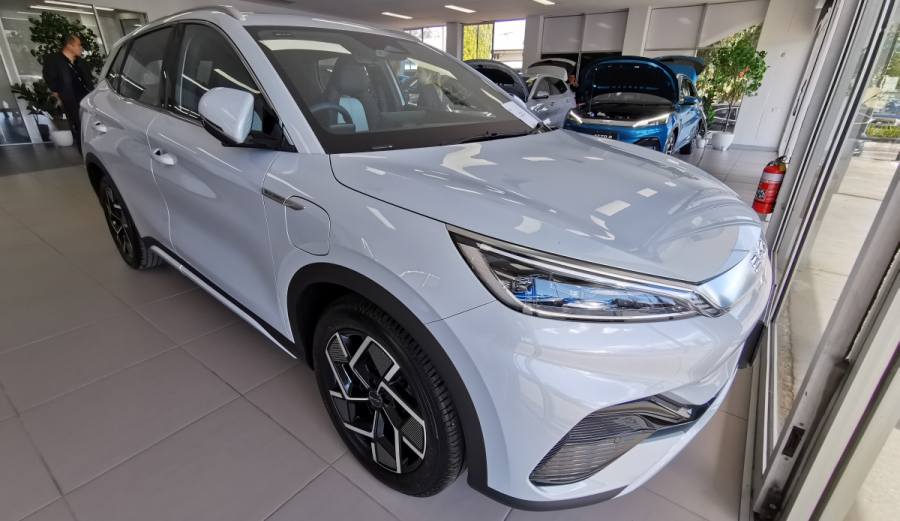 The standard colour, ski white, is really interesting. It's not among the usual variations of white you see on cars and changes with lighting conditions. It's hard to explain, but is (in my opinion) quite nice.
The interior is …different, with some odd/weird/unique touches such as the strings across the side-pockets and the funky white skin across the dash. But it all looks pretty easy to keep clean (important!).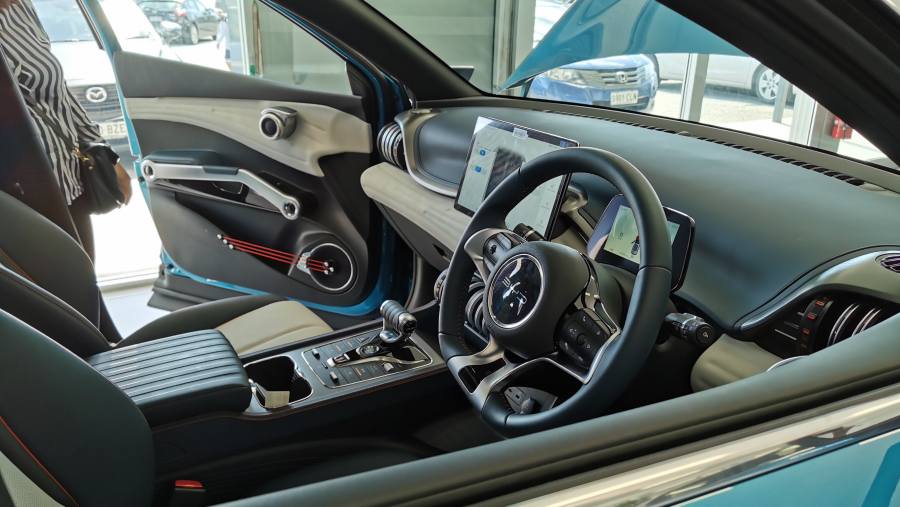 The instrument panel: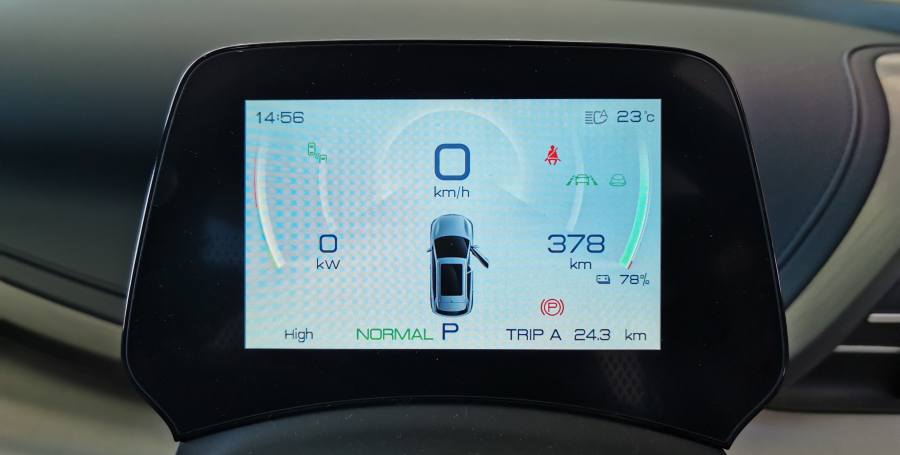 Seats are comfy, look easy to keep clean and there's plenty of room both front and back; even if this photo doesn't seem to indicate it.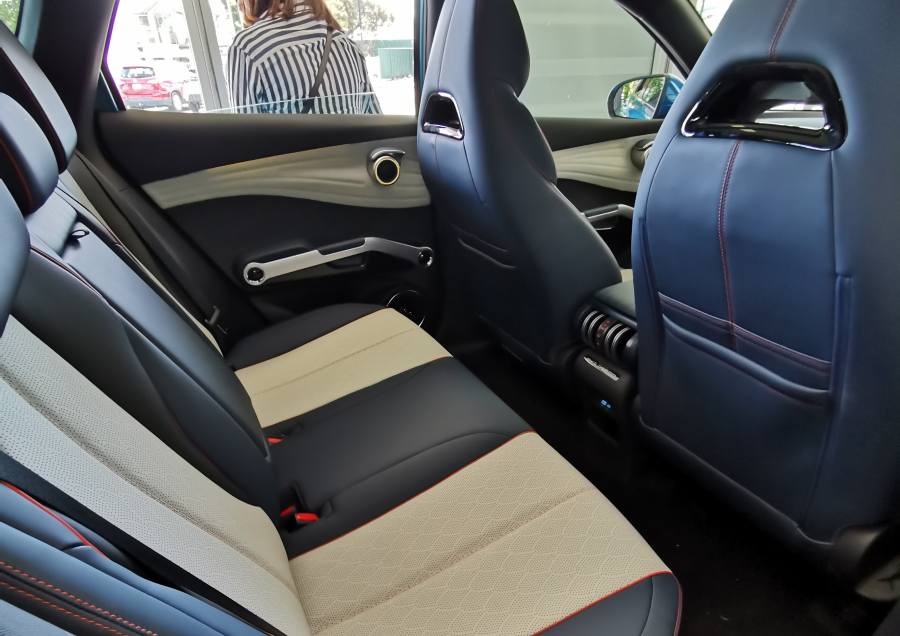 The cargo area is bigger than my ASX and there are two levels of storage – extra room beneath the floor that I expected to have a spare wheel, but there is none. Apparently this is an EV thing. I don't think that space would fit one; so a bottle of tyre goo would be the go.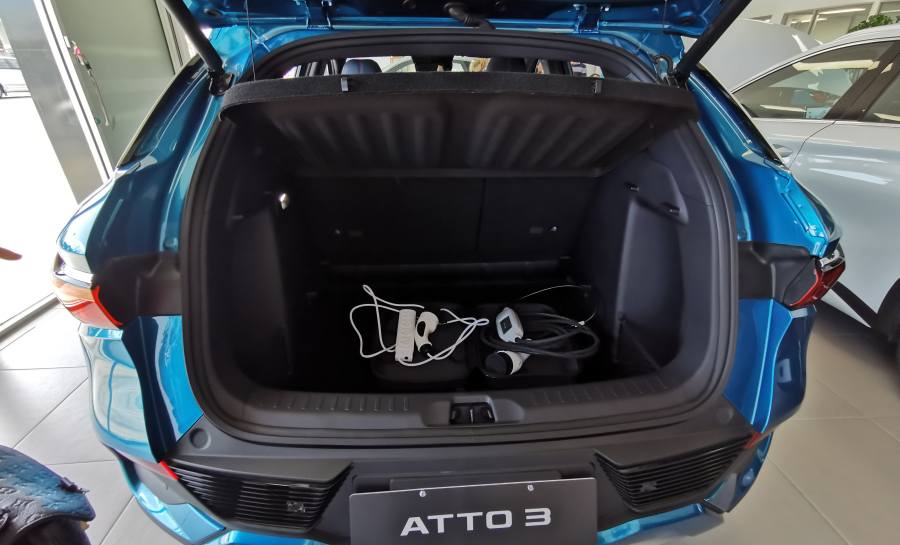 As for what's under the bonnet, well.. stuff.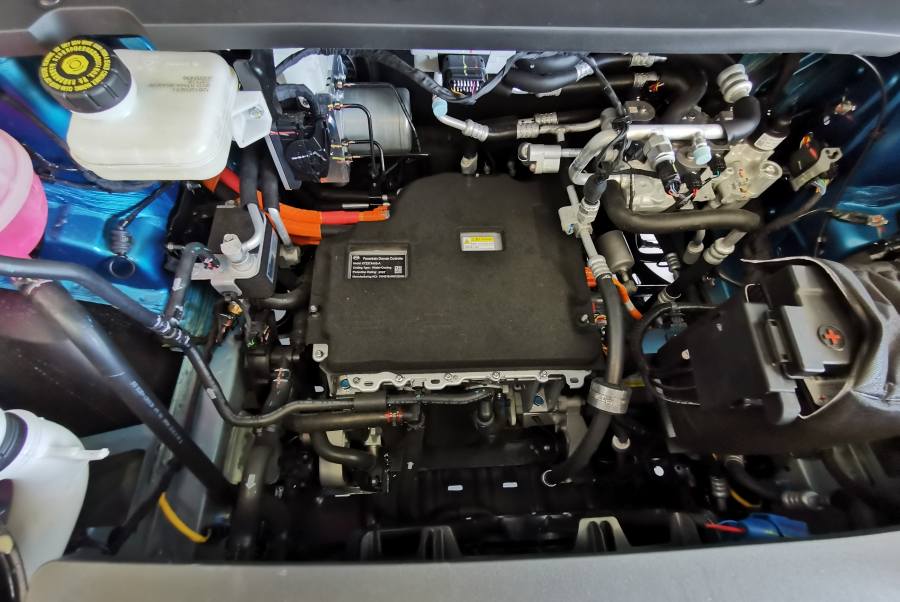 The Atto 3 Test Drive
When arranging this test drive, I asked the BYD guy1 we do it somewhere nice and quiet. But before we could take it for a test drive, we had to sign some paperwork, including a commitment to pay a $2,500 excess in the event of an at-fault bingle. The stakes for this test drive just got higher.
For the test drive, we were taken to what eventually turned out to be Dante's 10th circle of hell – North Adelaide.
Here's one of the somewhat gimmicky voice control features we tinkered with on the way there:
I sounded more robotic than the Atto lady. She initially had trouble understanding my accent; a mix of Adelaide northern suburbs and New South Wales nasal twang when forced. You can take a boy out of NSW, but you can't take NSW out of a boy. Anyway, an interesting feature, although it would have been easier just to reach across and turn the screen manually; which I assume could be done. However, there are a bunch of other voice commands that can be used with the Atto.
On arriving at our test drive starting point, it was my turn first. In this world of freakishly tall people (anyone over 5'6 1/4″), I of course needed to adjust the seat after the freakishly tall BYD guy vacated it. I've never experienced power seats before. They are also heated. What a bunch of snowflakes we've become.
The test drive started off nicely enough in leafy cul-de-sac that lulled me into a false sense of security. It morphed into a Mad Max scenario as the BYD guy directed me onto other busier roads. Then we were caught in a traffic jam for a bit caused by the aftermath of a vehicle that had been rear-ended (a hybrid oddly enough). When passing that ruined vehicle, the $2,500 excess for the test drive popped back into my mind.
Much of what happened during the drive is a bit of a blur given I was primarily focused on fending off every other driver out on the road out to get me – but that's a good thing. I wasn't dedicating much brain power to adapting to the Atto's handling, acceleration and braking – because there was little to adapt to. It was all very smooth. Conversation during the drive was easy due to how quiet the Atto 3 was. I could clearly hear the gentle whimpering of the BYD guy, who was in the back seat reconsidering his career choice.
My Atto 3 test drive ended on North Road (!), circling back to the dealership. Even among what I perceived to be total and utter chaos external to the vehicle, I was more comfortable than I would otherwise be in a car I had never driven before in that sort of environment. While a bit larger (and a lot heavier) than my ASX, the Atto 3 didn't feel like a tank. It was cool (had the air con on) and fun (well, my partner had a lot of fun laughing at me), smooth and safe, just like the brochure promised.
I reckon the BYD guy was pretty happy to get back to the dealership2, but it was then my partner's turn to take it for a spin. She's a fearless city-driving veteran – and to be feared. But at the wheel of the Atto, she became a totally different driver.
What is usually a white-knuckle experience for me as a passenger became very relaxed. This wasn't just my partner being on her best behaviour. Her driving was simply better, smoother and she took to the Atto 3 like a duck to water.
To summarise, she was hooked and would have left the showroom with the car. If we had children, she would have happily handed over our first-born to take delivery there and then, and not shed a tear. She was chatting to her friends online about the Atto 3 that evening. I've never seen her so interested in cars before; and practically every day since, the Atto and BYD have been brought up in conversation.
Back at the BYD dealership, we looked at a few other features including the nifty 360-degree view monitor, which would be really handy for someone with my parking skills.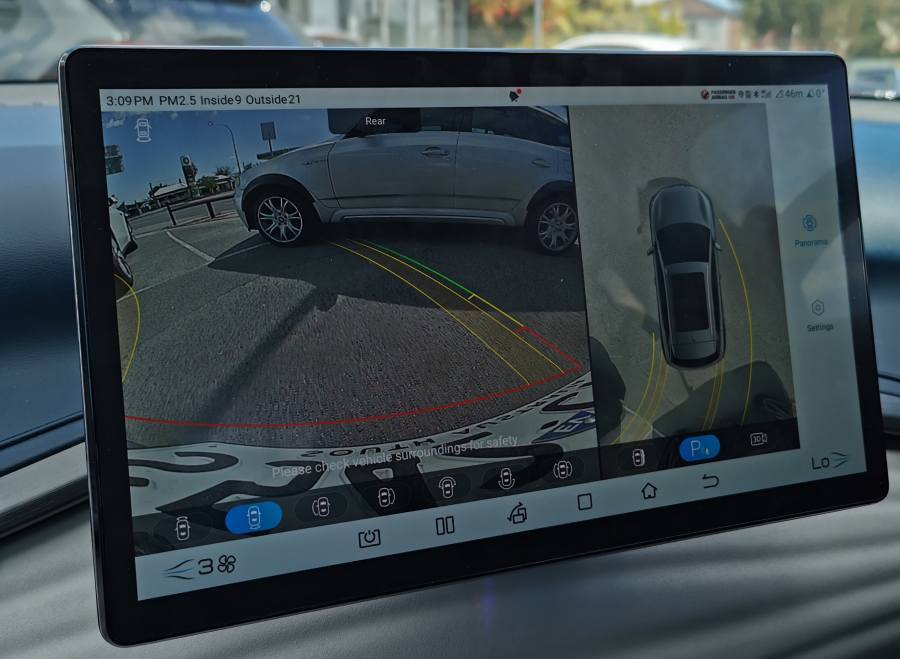 The Road Ahead
So, I've whacked down my fully refundable $1,000 for an Atto 3 pre-order and gone for a test drive. Estimated delivery is February/March 2023.
At this stage, I'm around 90% sure I'll follow through – but I'm not signing the sales contract I was sent until much closer to delivery as the contract has some unsettling aspects. For example, with regard to price (which the contract says can change) and delivery date (which the contract says can change).
We don't want to be locked into a buying a car that could potentially cost a lot more and not be delivered for 2 years. While I understand that's highly unlikely to happen, the contract wording – as I understand it – allows for it to happen.
So, we'll wait for a bit and see what happens in terms of both.
BYD has had a few hiccups introducing the Atto in Australia; including a reduction in warranty, some to and fro on servicing costs and the recent kafuffle over the car lacking an accessible top tether child restraint anchor point in the centre position on the back seat (now resolved).
How Much Does An Atto 3 Cost?
At the time of writing, the Standard is $44,381, and the Extended $47,381. Three other colours are available, which will set you back an extra $700. On top of that are the usual on-the road costs. I opted for the Extended model in ski white and the drive-away price is noted as $49,931. But that's before any subsidies/incentives.
BTW… BYD Atto 3 Warranty
BYD offers a battery warranty of 8 years or 160,000 kilometres; whichever comes first. I still need to review that more carefully and ask a few questions. The vehicle warranty is 6 years or 150,000 kilometres; again – whichever comes first (previously it was 7 years). *And*, there are some items with shorter warranty coverage – among them the AC/DC charging port assembly (3 years/60,000 kilometres).
Summing Up And Further Information
If you're thinking about buying an EV, I think the Atto 3 is well worth taking for a test drive. While BYD still isn't all that well-known in Australia judging by the blank looks I get at times when I mention the brand, the company is *huge* in China. BYD has been around for a long time and has had plenty of practice in the electric vehicle space.
For more information on BYD's Atto 3 beyond the glossy virtual brochure and this not-so-glossy review, the owner's handbook can be downloaded here and the warranty here.
For everything you need to know about electric vehicles, charging and how it all ties in with home solar power, check out SQ's EV guides.
Footnotes
I won't name him as he doesn't know I'm writing this – but he was a very pleasant fellow.

↩

This was evidenced by a reply to a follow up email from me thanking him. He said: "It's my pressure!" Quite a Freudian slip.

↩
Related