There's been some interesting stuff happening at JA Solar, Qcells and Australia's very own Tindo Solar this week.
JA Solar To Make Panels In The USA
China-headquartered panel manufacturer JA Solar says it has leased space for its first module factory in the USA. The new facility in Phoenix, Arizona is expected to be up and running by Q4 2023 and when fully operational will be able to crank out 2GW of JA Solar panels for residential, C&I and utility-scale applications annually.
The USD $60 million investment will also create an employment bonanza, with more than 600 new jobs created.
"Solar is a critical part of renewable energy and we are thrilled to be a part of the effort to meet the goal of carbon neutrality by 2050 in the US," says the firm.
Arizona's Governor, the Arizona Commerce Authority, the Greater Phoenix Economic Council and Phoenix's Mayor are pretty thrilled about it all too given the economic boost it will bring.
Qcells' Huge US Solar Manufacturing Investment
South Korea-based Qcells already manufactures panels in the USA, but it is taking operations there to a whole new level.
The company announced this week that it will invest more than USD $2.5 billion to build a "complete solar supply chain" in the USA, and in doing so will create close to 2,500 direct jobs in the state of Georgia. Qcells claims this represents the biggest investment in the history of American solar power.
In Bartow County, it will produce 3.3 gigawatts of solar ingots, wafers, cells and finished panels annually, and an additional 2 GW of Qcells solar panels will be manufactured at its Dalton facility each year. The company says this is expected to bring its total solar panel production capacity in Georgia to 8.4 gigawatts by 2024.
As for the polysilicon to make the ingots, REC Silicon is to restart US production later this year and Qcells' parent Hanwha Group recently became a major shareholder in the company.
The announcement was noted by US President Joe Biden, who stated:
"It will bring back our supply chains so we aren't reliant on other countries, lower the cost of clean energy, and help us combat the climate crisis. And, it will ensure that we manufacture cutting-edge, solar technology here at home. It's a win for workers, consumers, and our climate."
Tindo's ACEPV Officially Opened
Last, but certainly not least – and much closer to home – Australia's Tindo Solar officially opened its new Australian Center for Excellence in Photovoltaics (ACEPV) at the new(ish) Tindo Solar panel manufacturing facility in Adelaide's northern suburbs yesterday. The new factory has been producing Tindo Solar panels since early last year and the old facility on the same site has been decommissioned.
The function of the ACEPV:
"The center is designed to bring together industry and research partners with the goal of increasing Australia's module manufacturing capability while also improving production and efficiency of final installed systems," states the company.
Federal Minister for Climate Change and Energy Chris Bowen officiated at yesterday's event.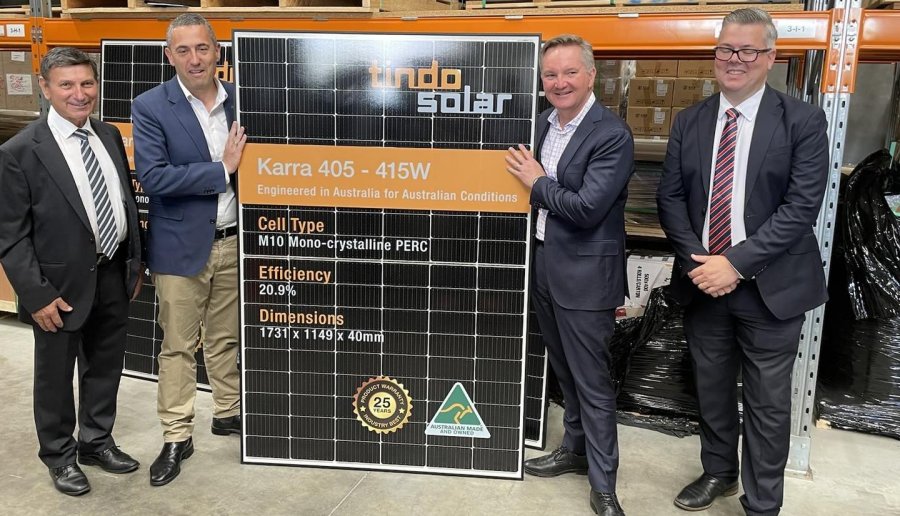 "Absolutely delighted to cut the ribbon at the expanded Tindo Solar factory and Center of Excellence in Photovoltaics in Mawson Lakes South Australia," he said. Tindo has doubled the number of jobs in their solar panel manufacturing business. With the right policies in place, we will be a renewable energy and manufacturing powerhouse!"
Tindo, Qcells and JA solar panels are currently listed on SQ's recommended solar panel brands chart. But if you're really into Australian-made, then obviously Tindo is the go. You can compare modules from all three brands (plus a bunch of others) and see approximate pricing using our solar panel comparison table.
Related